The usage of LVSR technology cuts road construction costs by more than 60%.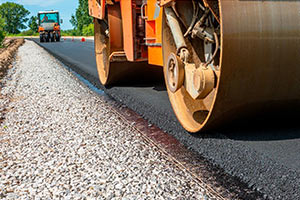 Kenya, reeling from increasing road construction costs, has approved a contentious technology that claims to cut road construction costs by more than 60%.
This road building approach, known as low volume seal roads (LVSR) technology, employs bitumen-based seals to inexpensively pave roads with low vehicular traffic volumes.
The Kenya Rural Roads Authority is renovating roads under the R2000 initiative, which entails gravelling roads with cobblestone using low-volume-sealed roads technology.
Conventional road building methods often focus on developing high-speed roadways, which necessitates horizontal and vertical realignment of the road surface, resulting in significant expenses.
In certain cases, more property is bought for the road, resulting in utility relocation and population displacement.
The LVSR technology, on the other hand, concentrates on improving highways while leaving the present alignment alone. This reduces the cost of road building by lowering the expense of earthworks, eliminating the need for land acquisition, and reducing utility relocation.
According to the Economic Survey 2021, Kenya has 4,400 kilometres of low volume seal roads, with considerable construction planned to increase this amount to 7,000 kilometres by 2022.
The 4,400 kilometres of road were built at a cost of Sh316 billion.
According to KeRRA, LVSR technology allows for the upgrading of low traffic roads to paved standard, extending pavement life to at least 15 years and minimising the life cycle cost of the roads.
While LVSR technology has been used in South Africa, Botswana, and other African nations, it remains a contentious issue with both advocates and detractors.
Supporters contend that it is the ideal technique for building and maintaining rural roads, while sceptics believe the technology can only be utilised for routes with extremely low traffic volumes.
Indeed, previous research by the Transport Research Laboratory (TRL), a UK-based independent transport consultant, has indicated that the ideal traffic volume for improving a road using LVSR technology is around 40 cars per day.
This is far lower than the previously proposed threshold values for Sub-Saharan Africa — in excess of 200 cars per day, which many practitioners still have in their thoughts.
Seals erode significantly quicker at greater traffic levels, needing shorter periodic re-sealing (every 3-5 years) depending on traffic loads, which can be costly for impoverished economies.
Kenya is still counting on low volume seal roads technology to update roughly 10,000 kilometres of rural roads in a short period of time in order to strengthen the country's road network.
Posted on : 31 May,2023