The Tallest Twisted Tower in Africa is Amazon Capital Diamond Tower.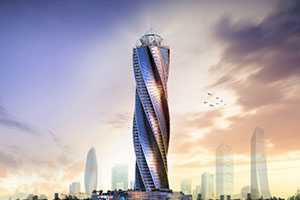 Amazon Capital Diamond Tower is a Mixed-Use Project planned for building in Egypt's New Administrative Capital (NAC), a large-scale project of a new capital city that has been under construction since 2015.
The Amazon Capital Diamond Tower will be built in the Central Business District, on the North Ben Zayed Axis, right opposite the Iconic Tower, which is presently the highest structure on the African continent at 385.8 metres.
Amazon Capital Diamond Skyscraper, which would occupy around 5 acres, will be built to a height of 200 metres and will be twisted, making it the second highest structure in the NAC and the first and largest twisted tower in Africa.
It will have 79 storeys in total, including roughly 5 subterranean floors and a ground floor. The subterranean levels will be utilised for parking and preventing congestion, while the ground to third floors will be reserved for commercial units with built-up areas ranging from 30 to 100 square metres.
From the fourth level to the top of the tower, administrative units with a minimum built-up size of 50 sqm and hotel apartments are available. Notably, the hotel units are the fewest, and all units, including commercial and administrative apartments, are to be provided with ultra-luxurious finishes.
Amazon Real Estate, a prominent real estate firm located in Dubai, United Arab Emirates, is behind the project.
Posted on : 23 Sep,2023