Lake Victoria Basin Project Receives Sh355 Million for Phase II Constructions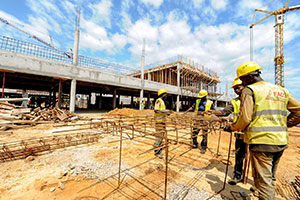 The East African Community (EAC) has set aside Sh355 million to wrap up the Lake Victoria Basin Commission (LVBC) headquarters in Kisumu.
Dr Masinde Bwire, Executive Secretary (ES) of the Lake Victoria Basin Commission, stated that the provision of funds made by EAC member states will enable the commission, which is tasked with overseeing sustainable development and management of the Lake Victoria basin, relocate to the new headquarters in February 2025.
Dr. Bwire stated that the contractor, China Jiangxi International Kenya Limited, has up to 80 weeks to finish the project after turning over the site for phase two of the project.
He stated that LVBC has collaborated with the State Department of Public Works to guarantee that the project is finished on schedule and within the allotted funds.
Dr. Bwire stated that the contractor was chosen through a competitive process, and that the agency has placed safeguards in place to guarantee that the work is completed to the required standards.
"Our hope is that this location will house LVBC and contribute to the beautification of Kisumu City," he stated.
The LVBC is the sole EAC organisation with a Kenyan headquarters and the country's only diplomatic representation based outside of Nairobi.
The building that is being built on Lake Victoria's shoreline, is supposed to help in effective delegation of the agency's activities.
Deputy Chief Architect David Waititu of the State Department of Public Works expressed confidence that the project, which has taken a long time to complete, will be completed on time.
"We're here to get the project started." It is a much-anticipated iconic structure. "We appreciate the EAC giving us the opportunity to host the headquarters of this secretariat, and we will do our part to ensure that it is completed within the budget," he added.
Posted on : 10 Dec,2023