Tanzania's Nzasa-Kilungule-Buza road rehabilitation is nearly finished.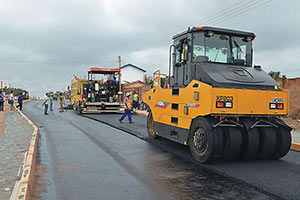 Tanzania's Nzasa-Kilungule-Buza road rehabilitation project is approaching completion. Mr. David, Deputy Minister of State in the President's Office for Regional Administration and Local Government, visited the project and stated that it will be completed by October of this year.
The road project is being performed by Group Six International Ltd as part of the Dar es Salaam Metropolitan Development Project (DMDP) at a cost of US USD 8.3M financing from the World Bank.
Construction on the route that connects the Temeke and Mbagala districts began in April of last year. 5.4 kilometers of the whole 7.6 kilometers of the road will be tarmacked, with the remainder being concrete, particularly for the Dar Rapid Transit buses.
The Dar es Salaam Metropolitan Development Project intends to improve urban services and institutional capacity in the Dar es Salaam metropolitan region, as well as to prepare for potential catastrophe response.
DMDP has been classified into several groups. The first is priority infrastructure, which will include improvements and new construction of local and feeder roads in the urban core to relieve congestion hotspots and support public transit, mobility, and connectivity to low-income communities, particularly by improving access to the bus rapid transit (BRT) system.
The second group consists of updating environmental-related works such as stormwater drainage, sanitation, tertiary solid waste management, and street lights, as well as community-related facilities such as parks, markets, and bus stops. The third, which comprises institutional strengthening, capacity building, and urban analytics, will aid in the establishment of metropolitan government structures and systems.
Posted on : 10 Dec,2023