Tanzania government plans to construct 2000 kilometres of roads in 2023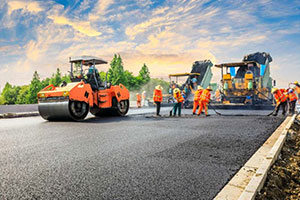 Tanzania is planning to build around 2000 kilometres of roads by 2023. Prof. Makame Mbarawa, Minister of Works and Transport, made the announcement.
In June 2023, the project contracts will be signed. The 24.83 km of the Sibiti Bridge, the 6 km of the Makongolosi-Ruangwa-Itigi-Mkiwa portion, the part from Noranga to Doroto, and the 25.569 km of Itigi-Mkiwa will all be covered to tarmac level.
The proposal, according to Mbarawa, is for the construction of a 1,780-kilometer tarmac road network linking the nation's provinces. This would facilitate both the entry and exit of persons and products from Tanzania.
According to Prof. Mbarawa, these roads would include Handeni-Kibirashi-Singida (462 km), Mbulu-Hydom (400 km), Ifakara-Lupilo-Malinyi-Namtumbo (480 km) and Arusha-Kongwa Junction (438 km).
The minister went on to say that the ministry issues road construction contracts for areas of no more than 400 kilometres per year. In June of this year, the government will sign an agreement for a 1,780-kilometer road project.
As construction begins, a contractor has been appointed and will focus on the Handeni-Kibirashi-Singida (462 km) route.
Prof. Mbarawa also stated that the Singida section of Tanzania's 2000km road building will begin soon. It will connect trading hubs to the Northern, Central, and Southern Highlands, as well as the Lake Zone Regions.
He added that the development of Noranga-Doroto and Itigi-Mkiwa is a continuation of the government's efforts to connect Makongolosi-Rungwa-Itigi to Mkiwa at tarmac level. This will also make it easier for commodities and people to transit between the Singida and Mbeya regions.
He requested cooperation from the Singida regional authorities, the contractor, China Henan International Cooperation Group Co., Ltd. (CHICO), and other specialists. This would ensure that the roads were constructed on time and to the agreed-upon specifications.
When finished, the roads will connect Singida, Simiyu, Shinyanga, Arusha, Dodoma, and Tabora. Singida will profit from the connectivity in a range of economic enterprises, including agriculture, tourism, and trade.
The work will be handled professionally. According to Rogatus Mativila, the Sibiti Bridge construction will be completed on time. Mr. Mativila is the Chief Executive Officer (CEO) and Chief Engineer of TANROADS.
He also mentioned that the project's implementation includes the enlargement of both large and small culverts, as well as the installation of water channels in locations where the banks have deteriorated. Mr. Yahaya Massare, the Manyoni West Legislator, praised the government's efforts. He stated that the region is focused on growth.
Posted on : 04 Oct,2023