Kenya's largest trade fair on construction opens again in Nairobi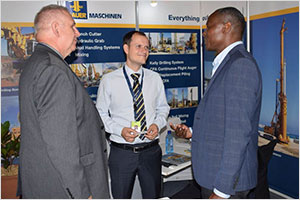 Whether you are building a house or building a skyscraper, the biggest marketplace for the Building & Construction industry "The 23rd BUILDEXPO 2022" is opening its doors with the widest range of building products, construction equipment and machinery. The trade fair will be held from the 12th to the 14th of May, at the Kenyatta International Convention Center in Nairobi and will be open for visiting from 10:00 AM to 6:00 PM during the exhibition days.
Apart from Kenyan suppliers, exhibitors from 40 countries will be having products on display. From a washer to a crusher, the exhibition will showcase construction machinery and building material like crushers and mixers, scaffolding, Batching Plants, Generators, Aluminium windows and profiles, Lighting Fixtures, Woodworking, Mining Equipment, Forklifts, HVAC, Electrical accessories, Pipes and fittings, Water Systems, Roofing systems, Sanitaryware, Tiles and what not.
Leading companies and brands include names like Meta Plant & Equipment, JCB, John Deere, Schwing Setter, Genotech Equipments Ltd., Liddem International Construction Equipment Co Limited, Liebherr, Camco Equipment Kenya Ltd, Road Paints Industries, Agro Industrial Tools Ltd, Oppein Kenya Ltd, Pronile, Treea Machinery, Lcp Building Products Pte Limited, Italco Middle East Fze, Euro Panel Pvt Ltd., Hd Aydınlatma, Meka, Hiber, Lamaica Wood, Logisiete Kitchen - Minguela Doors & Wardrobes, Dieffenbacher, Unicol Adhesive Technologies, Komaza Forestry Limited, Rhino Roofing Products Limited, Miraco, Goveco and many more.
The exhibition is supported by the Ministry of Transport, Infrastructure, Housing, Urban Development and Public Works, Energy and Petroleum Regulatory Authority, National Construction Authority and the Kenya Association of Manufacturer.
Posted on : 25 Sep,2023