Nairobi Railway City project timeline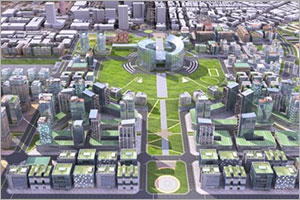 Work on the new Nairobi Railway City Project will begin in two months. It will include eight lines and four extra lines for freight services when finished in two years. Speaking at the Serena Hotel at the introduction of the final design by the UK and Kenyan government members, Transport Principal Secretary Joseph Njoroge stated that the government is committed to ensuring the project's smooth execution.
The Nairobi Railway project, which would cost Sh27.9 billion, was developed by the UK firm Atkins Global. It was unveiled by the UK Prime Minister's G7 and G20, Sherpa Jonathan Black. During the ceremony, the government also disclosed that it is negotiating for up to Sh220 billion in UK Export Finance for Kenyan projects, with the new central station likely to be the first to benefit. UK Deputy High Commissioner Julius Court, Nairobi Metropolitan Services Director General Mohammed Badi, National Treasury Director for Public Investment Management Stanley Kamau, and Kenya Railways Managing Director Philip Mainga also attended the ceremony.
The proposed station is part of President Uhuru Kenyatta's larger Nairobi Railway City revitalization proposal, which the UK government backs. It aims to reconstruct 425 acres of central Nairobi in order to relieve congestion and boost economic growth. The Nairobi Railway City, according to the Court, is a flagship project in the UK-Kenya Strategic Partnership, which was agreed upon by President Kenyatta and UK Prime Minister Boris Johnson during the Africa Investment Summit in 2020.
According to Chris Crombie, Design Director for Atkins, the Nairobi Railway City is a very important showpiece project in the heart of the city and the entrance to East Africa. Crombie stated that the railway city project would help the Kenyan government generate jobs as well as green and sustainable infrastructure that promotes rehabilitation. The Nairobi Railway City is anticipated to be a world-class, climate-resilient project that will provide transportation capacity to support future expansion and establish the groundwork for a Green City of the Future.
President Uhuru and British Prime Minister Boris Johnson originally agreed on the arrangement two years ago in London. At Sh17.6 billion, railway infrastructure will take the lion's share. The first phase contains the Central Railway Station as well as a business complex with two 5,000-square-metre buildings.
Background
In October 2019 the Government of Kenya has announced plans for the construction of a US $270m mega city. Draft plans for the "Railway City" that will see the expansion of Nairobi's Central Business District (CBD) have already been released thus paving way for project implementation.
The Nairobi Railway city masterplan
Dubbed the Railway City Masterplan, the 425-acre project is expected to be completed in the next 20 years in three phases. Aside from the main station area, it will also contain a residential area and business hubs.
Railway infrastructure will gobble a huge chunk of the project at US $169m followed by water supply and construction of roads and pavements that will take US $38m and US $19m respectively. The draft plans describe it as a "multi-modal" hub in the CBD that will guarantee "seamless connection" among commuter rail, three Bus Rapid Transits, airport limousine city bus and non-motorised transport such as bicycles.
"The Nairobi Railway City will include multi-modal transit stations, mixed-use or commercial buildings, international offices, small and medium enterprise cluster and high tech industry buildings," said Transport Principal Secretary Charles Hinga.
Other facilities will include residential buildings, community and government buildings, open space and plazas, and powerful non-motorized and pedestrian walkways. "Such a diverse urban programme will generate a 24-hour dynamic city," added the PS. The project expects to ease congestion on Uhuru Highway, Haile Selassie Avenue and Landhies Road.
Kenyans will be expected to give their views on the project in the next sixty days before the plans are finalised.
Kenya Railways mega city in the offing
Plans are on top gear for a multi-billion-shilling railway city in Kenya's capital, Nairobi, Africa's fourth largest city and the business, financial, transport and logistics hub of the East and Central African region. Kenya Railways, a state corporation, is seeking investors to develop the city as it seeks to harness its 63-hectare land in the central business district.
Sources close to the Corporation have revealed that successful bidders will lease the land on a renewable 60-year term and they will be required to commence development within a year of grant of lease. The investors are required to complete the project over a maximum of six years from grant of the lease.
The proposed city development, located between Haile Sellasie Avenue, Uhuru Highway and Bunyara road, has attracted worldwide interest,with American real estate tycoon Donald Trump being among 43 other interested parties including TPS Serena, Commercial Bank of Africa, Spencon International and Associated Motors.
The project will see the construction of a 5-star hotel, a modern 4-star hotel with state of the art conference facilities, exclusive cottages, an international quality 9-hole golf course and a huge shopping mall with sufficient parking lots.
The project will comprise a 100 room 5-star hotel, a 600 room 4-star business hotel, top of the range exclusive cottages, a nine hole golf course, a golf club house with a modern gym and associated facilities, conference facilities, exhibition rooms, Africa's first IMAX theatre and adequate parking facilities.
Kenya Railways joins a growing list of major corporate giants; NSSF, NHC, Centum Investment, Britam and CIC insurance, who are venturing into the thriving real estate market.
Kenya Railways is mandated to provide skills and technology for the railway sector, provide efficient and effective railway services, leverage on its assets to grow business and promote, facilitation and participation in national and metropolitan railway network development.
Posted on : 03 Oct,2023