Anchor Developments plans to launch in 2022 or 2023 with an investment of EGP 10 Billion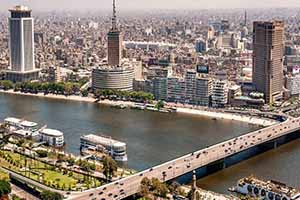 A strong investment plan and initial investments of EGP 10 billion were used to launch Anchor Developments, a new real estate development division of Alsarh Holding Group. According to Amr Ali, Anchor will soon sign a contract with a dependable party to construct a project in the New Administrative Capital.
Anchor Developments, the Alsarh Holding Group's real estate development division, entered the real estate market with a large investment plan of EGP 10 billion. In the fields of contracting and construction, Alsarh Holding has more than 30 years of experience.
According to Amr Ali, the chairman of Anchor Developments, Egypt is currently building out its urban infrastructure, and the opening of brand-new fourth-generation cities has opened up promising investment opportunities in the real estate industry. This has made it possible for a brand-new, strong generation of real estate development firms to participate in this growth.
In addition to providing the new company with a wealth of knowledge and a successful business model to draw from when developing its new projects, Ali continued, "Alsarh Holding Group has extensive knowledge of the contracting and construction industries. This ensures it has strong financial solvency to develop its projects based primarily on self-financing."
He emphasised the significance of creating a strong financial plan for construction projects, particularly in the current market where quick development is necessary.
The company will soon announce its first projects, which will be built in the New Administrative Capital, after receiving ministerial approval for the project that it acquired a year ago in partnership with a significant investment entity.
The New Capital is a sizable project, and the company is proud to make its first real estate investment in the market in this promising national project, he continued, adding that this cooperation achieves integration between the advantages owned by both entities and heralds the development of a strong and distinctive project in a short amount of time.
The New Administrative Capital has established itself as a top investment destination in the local market as a smart and sustainable city. This is a testament to the confidence that investors have in this prestigious project. In addition, he continued, the government is constantly working to increase the opportunities and incentives that will increase demand for the city from both Egyptian and foreign investors.
Posted on : 05 Dec,2023