AIIF4 invested USD 34 million and supports Kenyan Road Annuity Programme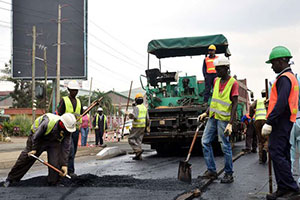 Kenya's Road Annuity Programme will receive a USD 34 million investment from AIIM, Africa's largest dedicated infrastructure private equity investor, via its pan-African AIIF4 Fund.

From Mota-Engil, AIIF4 has acquired a 74% stake in Lots 15 and 18 of Kenya's Road Annuity Programme. With its investment, AIIF4 will finance road improvements that will shorten travel times, avoid crowded areas, lower operating costs for vehicles, boost fuel efficiency, and strengthen Kenya's flood resilience.

The Government of Kenya (GoK) intends to modernise its road network by paving almost 10,000 kilometres of road throughout the nation because the majority of transportation activity in Kenya takes place on a network of gravel and earth roads.

By separating Kenya's road network into investable lots, the GoK has adopted public-private partnership programmes to increase investment in its Road Annuity Program.

The Kenya Urban Roads Authority (KURA) offered Lot 15 and Lot 18, which were then granted to the Mota-Engil and Lee Construction consortium in 2015 as part of an international public procurement procedure, with financial close occurring in February 2022.

The now under construction Lot 15 and Lot 18 projects will convert roads from gravel to asphalt standards, covering about 44.9 km and 35.1 km of roads in central and western Kenya, respectively.

With a debt-to-equity ratio of 75:25, they are funded by Stanbic Bank giving the necessary loans in Kenyan Shillings, AIIF4 supplying 74% of the necessary equity, and Mota-Engil and Lee Construction Limited providing the final 26% of the equity. EPC and O&M contractors for the roads will also be Mota-Engil and Lee Construction. These enhancements will make it easier for Kenyans in ten counties to navigate swiftly, safely, and effectively. They will also give adjacent SMEs a chance to sell goods associated with road construction. In order to advance gender equality, AIIM will also put a strong emphasis on hiring a lot of women for project implementation.

'We look forward to partnering with Mota-Engil, Lee Construction, Stanbic Bank, MIGA, and the Government of Kenya in this expansive project,' said Ed Stumpf, Investment Director at AIIM. 'It will improve regional communities' access to neighbouring markets and national transportation networks, enabling more effective logistics and promoting economic growth. At the height of the construction phase, the project will employ up to 400 people, creating additional employment opportunities.

"As an engineering and infrastructure expert with more than 70 years of experience in Africa, we are happy to be involved in the Kenyan Government's Road Annuity Programme with Lee Construction and AIIM," said Roberto Ferreira, Executive Director-Business Development at Mota Engil. We will upgrade and maintain the Lot 15 and Lot 18 road networks during a ten-year period to increase transportation connections for Kenyans living in ten counties.

In order to support Kenya's Roads Annuity Program (Lots 15 and 18), which aims to improve the nation's road system, MIGA has issued guarantees totaling $212 million covering equity by Mota-Engil Africa of Portugal and a company acquired by AIIM through AIIF4 as well as loans from Stanbic Bank Kenya Limited.

Mota-Engil Africa and AIIM are protected by the guarantees from the risks of transfer restriction, while the three guarantee holders are protected from expropriation, war and civil unrest, and contract breach. The guarantees cover the funding, design, repair, improvement, and maintenance of road sections in Central and Western Kenya for a period of ten years.
Posted on : 04 Dec,2023