The Old Mombasa Road will be upgraded to meet the requirements of the Nairobi Expressway.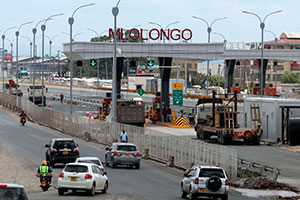 According to a recent statement from the Kenya National Highways Authority, the old Mombasa Road will be upgraded to Nairobi Expressway specifications as part of the Sh24.8 billion project, which will also see the creation of new footbridges and pedestrian paths. (KeNHA).
As soon as the road segments damaged during the building of the Expressway have been fixed, the work will start. According to Kungu Ndungu, director general of KeNHA. The latter claimed that nearly all of the damaged portions of the 27-kilometer-long road have been repaired.
Ndungu noted that it was necessary to modernize the pre-Expressway infrastructure. He asserted that as a result, KeNHA will upgrade the current road and put in place fresh features like footbridges. He added that they anticipate the contracts to be in place in about eight weeks.
KeNHA added that the state intends to purchase the additional property after the current project is finished in order to widen some sections of the old Mombasa Road and build pathways. Additionally, BRT will be installed. (BRT).
The National Treasury estimates that citizens would fork over about Sh24.8 billion. A sizeable portion of that would also be used to pay for the purchase of the property.
The exchequer had issued a total of Sh5.93 billion for the toll road by the end of June of last year. For property compensation during the construction of the 27.4-kilometer highway, a sizable sum was used. A further sum was used to transfer utilities like fiber optics, power cables, and water pipes.
For a total of Sh88 billion, a Chinese contractor built the Nairobi Expressway, a public-private partnership (PPP) project that links Westlands to Jomo Kenyatta International Airport (JKIA).
The government also allocated Sh9 billion for the old Mombasa Road's contractor-damaged portions to be repaired.
In addition to the Sh24.8 billion expenditure, the multibillion-dollar project carries potential liabilities that could subject the Kenyan government to legal action should it be abandoned before the contractor, China Road and Bridge Corporation, has had 27 years to recoup its investment.
The Chinese firm anticipates making a profit of about Sh106.8 billion during its 27-year ownership of the expressway.
Posted on : 10 Dec,2023