MoU signed for construction of road linking Ethiopia to Berbera in Somaliland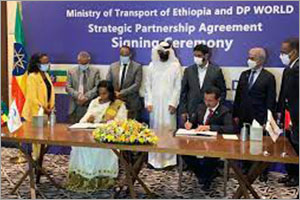 The government of Ethiopia through the Ministry of Transport and Dubai Ports (DP) World, a leading global provider of end-to-end logistics solutions, have signed a Memorandum of Understanding (MoU) that would see the construction of a road linking Ethiopia to Berbera in Somaliland.
A road infrastructure that will connect Berbera port to Wajjale, a city on the border of Somaliland and Ethiopia is already under construction and is expected to be completed at the end of next year. The road project is funded by the Abu Dhabi Fund for development and the UK's Department for International Development.
When linked the entire road will further position Berbera as one of the key trade gateways in the region and will be one of the fastest and most efficient routes for Ethiopian transit cargo.
Developing the Ethiopian side of the road into a major trade and logistics corridor
According to the MoU, the Emirati Company also plans to develop the Ethiopian side of the road linking Ethiopia to Berbera in Somaliland into one of the major trade and logistics corridors in the region for international trade routes.
This will be achieved through the construction of dry ports, silos, warehouses, container yards, cool and cold chain depots, and the development of freight forwarding and clearing activities.
As part of the project, the latest IT infrastructure and technology will be implemented to ensure the efficient functioning of the corridor, smooth, secure, and transparent transfer of cargo throughout the entire transportation journey.
Benefits of the entire project
Sultan Ahmed Bin Sulayem, Chairman, and CEO of DP World said that this project will unlock huge economic benefits, create new jobs, attract new business and investment as well as diversify and strengthen Ethiopia's access to international trade by having a direct and efficient link between Ethiopia and the Berbera dry port.
Posted on : 01 Oct,2023