Tanzania has approved USD 160.5 million for the building of the Isaka-Mwanza high-speed rail route.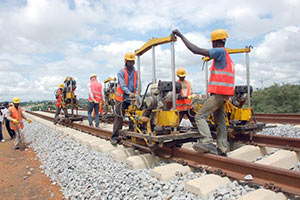 Tanzania's government has authorised a preliminary budget of USD 160.5 million for the building of the 341-kilometer Isaka-Mwanza Standard Gauge Railway (SGR) line.
President Samia Suluhu Hassan advised Tanzania Railway Corporation (TRC) Managing Director Masanja Kadogosa to adequately monitor the implementation of the country's current railway projects during the approval of the funding at the Dar es Salaam State House. He also requested that the corporation prepare to commence construction of the SGR segment from Makutopora to Tabora, Tabora to Isaka, Kaliua to Mpanda, and Kalema.
"The government is fully committed to ensuring the timely completion of the Central Railway line, which will connect the Port of Dar es Salam with the Lake and Western Zone regions, as well as the neighbouring countries of Burundi, Rwanda, Uganda, and the Democratic Republic of the Congo (DRC)," said the president.
She was also pleased with the Corporation's performance in delivering ongoing railway projects. At the same time, she praised TRC's management and employees for their efforts thus far.
TRC Chairman Masanja Kadogosa congratulated President Uhuru Kenyatta for authorising money for the Isaka-Mwanza SGR route. He stated that the Corporation has made significant progress on the SGR project, with two portions, Dar es Salaam-Morogoro and Morogoro-Makutopora, already completed.
Eng Kadogosa stated that as of last month, the 300-kilometer stretch from Dar es Salaam to Morogoro was 91% complete, while the 422-kilometer section from Morogoro to Makutopora was 60.02% complete.
The first segment of the SGR line from Dar es Salaam to Morogoro, he claims, would begin operations by the end of August this year.
Posted on : 10 Dec,2023