Government of Kenya launches US$ 4.6m water project in Nyali, Mombasa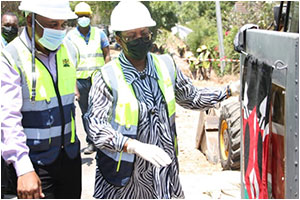 The National Government of Kenya recently launched an over US$ 4.6M water project in Nyali, a residential area, and Sub-County within Mombasa City on the mainland north of Mombasa County.
The project, which is a part of a close to US$ 12M water program in the coastal County, is set to significantly improve water services for the residents of Kongowea, Maweni, VOK, and Kisumu Ndogo.
Speaking during the launch of the project, Water, Sanitation, and Irrigation Cabinet Secretary (CS), Sicily Kariuki, said that this is President Uhuru Kenyatta's initiative, aimed at providing clean and reliable water to every part of the country adding that the National Government is also sponsoring a similar project in Kisauni Sub-county in the coastal County, at a cost of slightly over US$ 7M.
Expectations for the water project in Nyali
According to CS Sicily, the first phase of the water project in Nyali upon completion will provide fresh water to over 4,000 households, and when fully complete the project will directly impact 9,000 homes with new metered water supply connections that will provide area residents with clean and reliable water supply.
This project, the CS said, will go a long way in addressing water shortage in the hugely populated areas of Nyali and Kisauni Sub-counties and the Mombasa city in general where residents have been grappling with frequent water shortages forcing them to rely on borehole water that is unsafe for human consumption.
Noteworthy, a survey carried out by the Mombasa Water Kiosk Operators Association (M.W.K.O.A), revealed that only 2,300 out of 8,000 kiosks in Mombasa County sell clean water from certified sources.
Posted on : 05 Dec,2023