Shs20 Billion Low Cost Housing Project in Kiambu Commences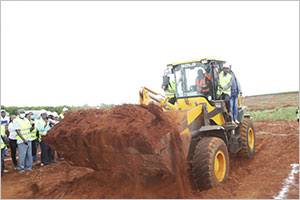 The construction of an Shs 20 Billion low-cost housing project in Kiambu county, comprising of 4,000 units has been officially launched by real estate companies, Heri Homes and Finsco Africa. The mega project, dubbed Legacy Ridges, will sit on a 200-acre land in the sixth largest urban center in Kenya, Ruiru.
This low-cost housing project in Kiambu is projected to accommodate well over 20,000 people. The project will include 2,800 two and three-bedroom apartments, with the rest being servant quarters and maisonettes. The price of a two-bedroom apartment will start from as low as Shs 3.5 million, while the cost for a three-bedroom apartment will start from Shs 4.3 million. A three-bedroom maisonette will retail from Shs 8.5 million, while the introductory fee of a four-bedroom maisonette is Shs 9.7 million.
The three-bedroom maisonettes and bungalows have been designed to include a kitchen area, dining area, and lounge area. On the other hand, the four-bedroom maisonettes are designed to include the same features as that of the three-bedroom maisonettes, with an additional room.
How to buy a house
CEO to Finsco Africa, John Mwaura, expressed that interested parties in this low-cost housing project in Kiambu will be required to pay a 20 percent deposit. The remaining amount can then be cleared within the project's construction period. To ensure investment safety, the real estate firms have assured buyers that all funds will be channeled to an escrow account.
While speaking on behalf of Heri Homes, CEO Kimotho Kimani, and marketing director Paul Mugo said that the two real estate firms will commence construction on the first 58 units right away. After therein, new units will be rolled out after every six months. Kimotho Kimani also added that the companies were committed to delivering modern apartments that would fit well into the Kenyan Government's affordable housing plan.
Posted on : 29 Nov,2023