DFIs promise to back the African Infrastructure Investment Fund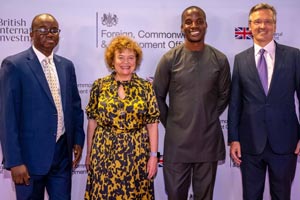 British International Investment (BII) and FMO, development finance institutions (DFIs), on July 27 made a joint commitment to the African Infrastructure Investment Fund 4 (AIIF4), managed by African Infrastructure Investment Managers (AIIM), with the goal of supporting AIIF4 in achieving its USD 500 million target fund size.
The fourth pan-African fund of AIIM has received investments totaling USD 76 million from anchor investor BII, the UK's development finance organisation, and USD 40 million from FMO, the Dutch entrepreneurial development bank.
AIIF4 will make investments in high-impact infrastructure projects all over the continent from AIIM, a seasoned fund manager with one of the longest histories in infrastructure investment in Africa.
By investing in three priority infrastructure subsectors — renewable energy, such as rooftop solar; digital infrastructure, such as mobile telecoms towers, data centres, and fiber-optic networks; and mobility and logistics, such as ports, roads, and other supporting infrastructure — the AIIF4 will help AIIM build on the successful performance of its predecessor funds.
By investing in dependable infrastructure across Africa, AIIF4 will contribute to closing the estimated USD 108 billion infrastructure financing deficit each year.
The projects sponsored by AIIF4 will increase productivity by generating employment and fueling the economy, while the new and improved infrastructure will promote inclusive development, raise consumer standards of living, and promote sustainable economic growth in many of the continent's countries.
Additionally, at least 20% of the money allocated to AIIF4 will go toward climate finance-eligible initiatives that would directly lower greenhouse gas emissions.
In addition, AIIF4 is eligible for the 2X Challenge under the Group of 7 due to AIIM's 50% female workforce and its dedication to improving possibilities for women in entrepreneurship, employment, leadership, and consumption in 30% of AIIF4's portfolio firms.
According to Ryan Wagner, head of the BII infrastructure and climate funds, the organisation has proudly partnered with AIIM, an institutional fund manager with extensive industry experience and local understanding of the African infrastructure market, for more than ten years. 'We are pleased that our partnership alongside FMO and Old Mutual will serve to mobilise further capital to help meet AIIF4's target size, playing a role in meeting Africa's infrastructure needs.'
BII is sure that its capital will contribute to the modernization of cities and services and accelerate social and economic success for people and communities throughout Africa, he continues, and AIIF4 is clearly aligned with BII's fundamental infrastructure strategy.
Diana Wesselius, manager of private equity energy at FMO, claims that since FMO also participated in the two predecessor funds, the organisation views AIIM as a long-term partner in advancing infrastructure development in accordance with FMO's objectives and looks forward to doing so.
The United Nations Sustainable Development Goals 7 - affordable and clean energy; 8 – decent work and growth; and 9 – industry, innovation, and infrastructure – are all supported by BII, FMO, and Old Mutual's commitment.
Posted on : 29 Nov,2023